I'm not a winter person, so I don't enjoy much of winter, but I do love driving in the snow…  I think Lot of Car guys would agree. learning more skills and it's fun to drive in it.
Right now with our own site TruckinTube.com, we are working on the project truck.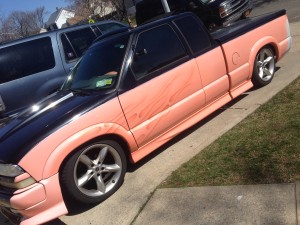 We acquired 2001 Chevy Xtreme last year and it has been modified little by little as our budget allows.  This year We are working on installing Air Suspension.  Lot of the things are already done on this Truck before we acquired, shaved door handle, lowered suspension, Ragtop and Custom Paint.
We have done replacing bench seat to Bucket seat from 2001 Lexus, working on custom center console, fixing odds and ends…  and this year will be working on air suspension with help from our friends. once it's done you will see it on cars shows around Long Island area a lot and also around tri state area. If you like to see more please visite TruckinTube.com !